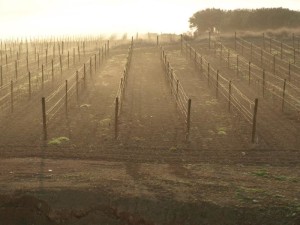 A short distance from Zurukoain, where the AROA vineyards are located, in the 1st Century the Romans kept wine in a wine cellar known as "cella vinaria", located in Arellano, storing the wine in large earthen jars known as "dolias". It seems that this wine cellar kept around 90 dolias with a capacity of 800 litres each. There were "lacus", namely press-rooms where the grapes were squashed and the must fermented, and another area known as "fumarium", which, it seems, was warmed in order to accelerate the fermentation process if necessary. There were rituals involving the wine, known as "vinarias", and on the 23rd April the "vinaria priora" celebration was held to taste the new wine. The "vinaria rustica", celebrated on the 19th of August, was used to ask the Gods for protection for the next harvest. The "vinaria meditrinalia" was celebrated on the 11th October, although the date could be moved, depending, as now, on the weather and the beginning of the harvesting.
Many centuries passed, and the vines were kept until the 1970s and 80s, when many were removed in order to give way to cereal fields. AROA came about in 1998, the result of efforts to recover an activity which has been carried out for a thousand years on the lands of our area (Deierri), namely winegrowing. For many generations, the houses of Valle de Deierri have witnessed many harvests. It is here, in these "home cellars and lakes" where the grape is pressed, that this marvellous process of the transformation of the grape into "divine liquid: wine" took place.
We defend the concept of "terroir", the individuality of the wines from a specific area, with their own cultural identity, using a small-scale approach, artisan produced, making full use of current technology, both in the vineyard and the wine cellar.
AROA, a Basque word, in the context of agriculture, means: "The optimum, ideal moment to work the land".