Francesc Ricart Cava Brut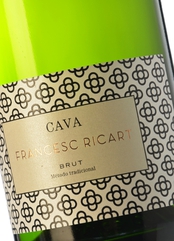 DO Cava (Xarello, Macabeo, Parrellada) 750 ml
Background
Francesc Ricart Brut is a cava made following its Traditional Method in the most representative area of the DO Cava, which is the region of Penedes and Sant Sadurní d´Anoia
A careful selection of the best Xarel-lo, Macabeo and Perellada local varieties and a meticulous winemaking process -the second fermentation and the subsequent ageing take place in the bottle- are the basis of this cava. This cava respects the essence of a traditional brut and it is a fresh and easy-drinking wine.
The first cava made by Vintae takes its name from an essential figure in the history of the company, a pillar of our evolution and our personality as winemakers, the sales manager Francesc Ricart Milá.
Source: http://vintaeapp.com/en/coleccion/francesc-ricart
Tasting Notes
Pale yellow colour, with floral and honey hints, it is fresh, balanced, fruity, and with fine bubbles. Ideal as an aperitifand for acompanying rice, fish, seafood and grilled white or red meat. Bottle-aged for 14 months.