DO Valle del Maipo (Chile)
Closest wine region to the city of Santiago. Vineyards stretch eastward from Santiago to the Andes and westward to the coast to form three distinct sectors of the Maipo Valley best known for its well-balanced red wines. Alto Maipo reaches into the foothills and produces some of Chile's leading Cabernets. Central Maipo is one of the country's oldest and most diverse productive regions, and Coastal Maipo—a relative newcomer—benefits from the cool maritime influence that slides over and between the Coastal Mountains.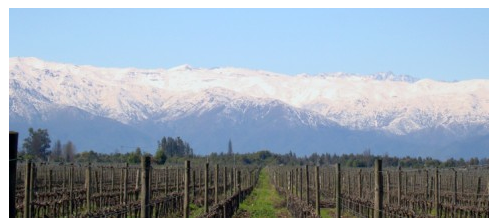 Alto Maipo
Rising into the Andean foothills, the Alto Maipo section ranges from roughly 1,300 to 2,600 feet (400 to 800 meters) above sea level and is highly influenced by the mountains themselves. The rising sun must scale the Argentine side of the peaks before first morning light reaches the vines on its western—Chilean—slopes. The afternoon sun warms the vineyards and the cool mountains breezes that slide down the hillsides at night create a broad oscillation between daytime and night-time temperatures, all of which makes for dream-team of conditions for bold yet elegant red wines, especially the regional star Cabernet Sauvignon.
Central Maipo
The rocky alluvial soils that border the course of the Maipo River along its way from the Andes to the coast, red varietals grow well and strong in this warm-but-not-hot region that spreads out due south of Santiago. It sees less rainfall than its higher altitude neighbor to the west.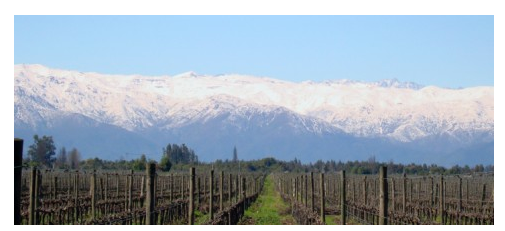 Pacific Maipo
The relatively few vineyards found in the vicinity of the Maipo River as it approaches the Coastal Range, southwest of Santiago, tend to be tucked up against some of the smaller, low-lying hills that rise between the Andes and the Coastal Range. This protects them from a more direct maritime influence. This area is separated from the San Antonio Region to the west by the political (rather than geographical) border that divides the Metropolitan Region from the country's V Region of Valparaíso.
Mediterranean climate. 315 mm (12.4 in) of rain per year.
Soils: Sandy and gravel to the east, more clay to the west.
Terrific Results: Cabernet Sauvignon, Carmenere, and Syrah.