The D.O. Montsant wine appellation encompasses a land where, for many centuries, the surrounding countryside has blended seamlessly with growing grapes and where even the old vines, cared for as if they were real treasures, are the veritable pillars of the region's history.
PHILOSOPHY
For 10 years, the D.O. Montsant and its member wineries – currently numbered at 57 wineries and 44 private labels – have been faced with a great challenge: that of carving a place for themselves in the competitive and demanding world of wine. It has been tough and it still is tough. In order to face this ongoing challenge, we know must remain true to a certain way of thinking. And in the Montsant winemaking region with 1,900 hectares of vineyard and a global production of 5 million bottles, we are true to high standards of quality and we firmly believe in our unique product.
The nucleus of this difference is centred on the local grape varieties: Grenache and Carignan, grown on Montsant soils, influenced by its climate and blended with recently introduced grape varieties (Cabernet Sauvignon, Syrah, Merlot…) all helping to make excellent wines. In this pursuit of excellence, the role played by winemakers and wineries is of utmost importance. The D.O.Montsant wine appellation stands out for its production, well shared out between large wine co-operatives and small family-run wineries alike. It is also known for its dedicated young winemakers, trained locally as well as for the European winemakers who have recently arrived. Yet despite these dualities, big-small, native-foreign, the final result is unanimous. Praise for the quality of Montsant wines is showered on one and all.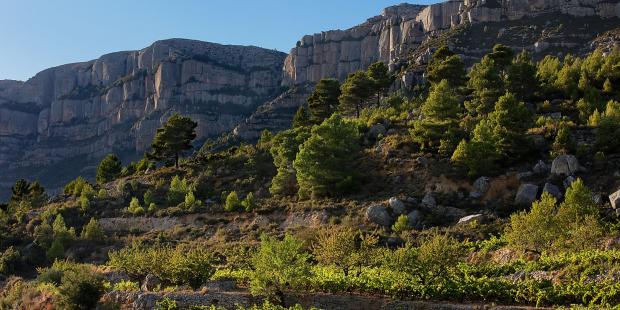 WINERIES & THEIR WINES
Behind the success, which the D.O. Montsant has achieved in its 10 years of existence, are the enthusiastic wineries – including co-operatives with a great social base – and the people in charge of them, who in many cases are under 40 years old. Here at the D.O. Montsant, we believe that youth, if it has a solid traditional base, is synonymous with the future, with new ideas and with experimentation.
If we taste the wines of Montsant, we taste the aromas and fragrances of its countryside. The wineries of the wine appellation produce many different types of wine: silky whites, concentrated reds, perfumed rosés, sweet wines backed by history…"
WHITES
The white wines of Montsant stand out against its other wines, thanks to their silkiness. Wines made with varieties such as Macabeo and White Grenache, with individual taste profiles and elegant, subtle aromas. Warm young whites and barrel fermented wines with longer bottle lives. Barrel fermented wines in a Burgundian style, denser and more complex, with further developments during tasting.
REDS
Red wines are made using red grape varieties. The secret behind the colour of our red wines can be found in the skins of the individual grapes. Similarly, we can also find other components such as tannins which are responsible for our reds' reputation as great aging wines. Old vines produce more complex wines.
ROSÉS
Rosé wines have become more important within the D.O. Montsant in the last few years. The varieties most commonly used are Grenache and Syrah, which is not a local variety, but it has adapted well to Montsant soils. In the mouth, Montsant rosés tend to be very fruity, dominated by fruits of the forest. They are powerful, yet elegant at the same time and are mouth-watering with good character.
KOSHER
These wines are made according to Jewish Laws. Its consumers are to be found in the principal Hebrew communities around the world. In Hebrew, "kosher" means pure and refers to the fact that the whole process has been certified by a rabbi or by a person authorised by the Jewish community according to Kashruth rules. In order for a product to be classed as kosher, its producer's ancestry must be traced back three generations (at least to be aware of their roots). The wine is made using methods for making conventional wines, although there are a few peculiarities. No chemical substances are used in the vineyard. Every time a wine is racked and every task in the winery must be supervised by designated personnel, avoiding the use of gelatines in fining the wines. Only native yeasts are used for the fermentation stage, which are to be found on the outer skins of the grapes.
OTHER WINES
Our wine region became internationally famous for its fortified wines: old wines (known locally as Ranci), muscatels… wines which travelled the globe in the 19th century and which today are regaining lost ground on the international gourmet food market.
Old wine or Vi Ranci is a traditional fortified wine, which is very typical of the area. It is made by an oxidative process in oak vats based on white or red wines whose alcohol levels are 12% and which eventually achieve levels around 15-20% of alcoholic volume.
Mistela (mistelle) is made using grape must and adding alcohol which kills off the yeasts thus leaving a sweet wine which is 15% to 20% vol. in alcohol.